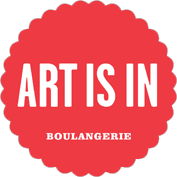 All News
SHOPIFY IS LIVE!

Wednesday, September 09, 2020 at 09:09:48 AM

Hey! This is the moment you've all been waiting for! You can now place pre-orders *with hard deadlines for all your Art Is In Bakery shop needs! All you need to do is visit artisinbakery.shop, select your items, pay, and pick up your order at our retail location, Bay 112 at City Center Ave!

Pizza & Burger Nights!

Saturday, June 27, 2020 at 05:14:09 PM

Wednesdays - Saturdays: 4 pm - 8:30 pm, bread & pastry counter, order takeout from our dinner menu at the counter TO ORDER ONLINE please go to the online ordering section on our website : artisinbakery.com - CHOWNOW for *pickup only, UBEREATS for delivery!